Addiction in New Mexico is a serious problem. The state is well-known for its battles with drug and alcohol addictions, overdoses, and deaths and ranks among the worst in the nation for many different types of drug-related issues. To better understand just how bad the drug problem is in New Mexico, check out these 13 sobering statistics on drug use and abuse in the state.
1. Drugs and Alcohol Are at Least Partially to Blame for All 10 of the Leading Causes of Death in New Mexico
It's scary that drugs and alcohol may be to blame for so many deaths in New Mexico. When we think of deaths caused by drugs, overdose comes to mind, but we may not even realize the impact drugs and alcohol have on other serious health conditions that can lead to death. As of 2015, all of the top 10 causes of death in New Mexico can be partially attributed to drug and alcohol use. That doesn't necessarily mean that all these deaths are caused by or related to drug use, but that all of them could be.
Chronic liver disease and cirrhosis, unintentional injuries, and suicide can all be related to alcohol use. Deaths from influenza, pneumonia, and chronic lower respiratory diseases may be related to or caused by tobacco use. Both alcohol and tobacco can lead to heart disease, malignant neoplasms, and cerebrovascular diseases, which are all top causes of death in New Mexico. And unintentional injuries and suicides are also related to other drug uses.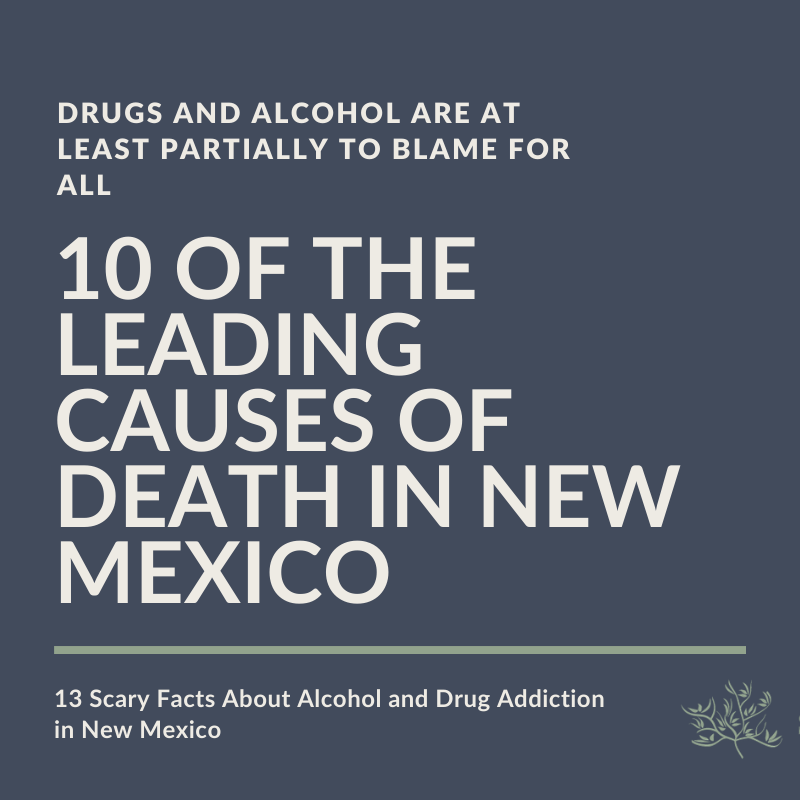 ---
2. New Mexico Had the 15th Highest Drug Overdose Death Rate in the United States in 2018
Drug overdoses are a huge problem in New Mexico, and what's scarier is that the state has often rated at much higher than 15th. Even at this new, lower 2018 ranking, the state still has an overdose death rate that was about 29% higher than the national average in 2018. In previous years, New Mexico has ranked as high as second in the nation.
---
3. New Mexico's Alcohol-Related Death Rate Is the Highest in the Country
The New Mexico Department of Health reports that alcohol-related deaths in the state are rising, with a 6% increase between 2017 and 2018. New Mexico's alcohol-related death rate has been higher than any other state in the country since 1997. These statistics cover all the deaths that are completely attributable to alcohol and a portion of those where alcohol is only partially to blame (such as suicide or accidents). Almost one-third of these alcohol-related deaths are from chronic liver disease.
---
4. There Are Many Negative Consequences of Drugs and Alcohol Besides Death
Although death from drugs and alcohol is a scary consequence on its own, it's not the only consequence in New Mexico and all across the country. Drug and alcohol use can cause or lead to liver disease and a wide variety of other chronic health concerns, injuries, car accidents, and mental health problems. They are also often related to domestic violence, various types of crime, poverty, and unemployment.
---
5. The Economic Cost of Alcohol Abuse in New Mexico Was More Than $2.8 Billion in 2007
The total cost that is attributed to alcohol abuse in New Mexico has been consistently on the rise. The numbers topped $2.8 billion in 2007, increasing steadily from the previous years. This total cost amounts to almost $1,400 for every person in the entire state. This cost includes things like lost productivity due to illness or premature death, health care expenses for treatment of alcohol-related conditions, property and administrative costs associated with fires, accidents, and car crashes due to alcohol use, social welfare costs, and various criminal justice costs for crimes related to or caused by alcohol.
---
6. Alcohol-Related Deaths Increase with Age
Alcohol plays a hand in various health concerns and causes of death, and all of these have an increased risk according to age. The older a person gets, the risks increase naturally for many different types of diseases and health concerns, and alcohol use and abuse only exacerbate these conditions.
---
7. Deaths Related to Drugs and Alcohol Are More Common Among Men, Especially in New Mexico
Men have a much higher risk of death due to drug and alcohol-related causes than women in every state across the United States. However, the gender gaps increase even more in the South and Western states. New Mexico lands right in the middle of this and has a larger gender gap for drug- and alcohol-related deaths. New Mexico has the largest gender gap of any other state, with 19.6 for women and 41.7 for men (per 100,000).
---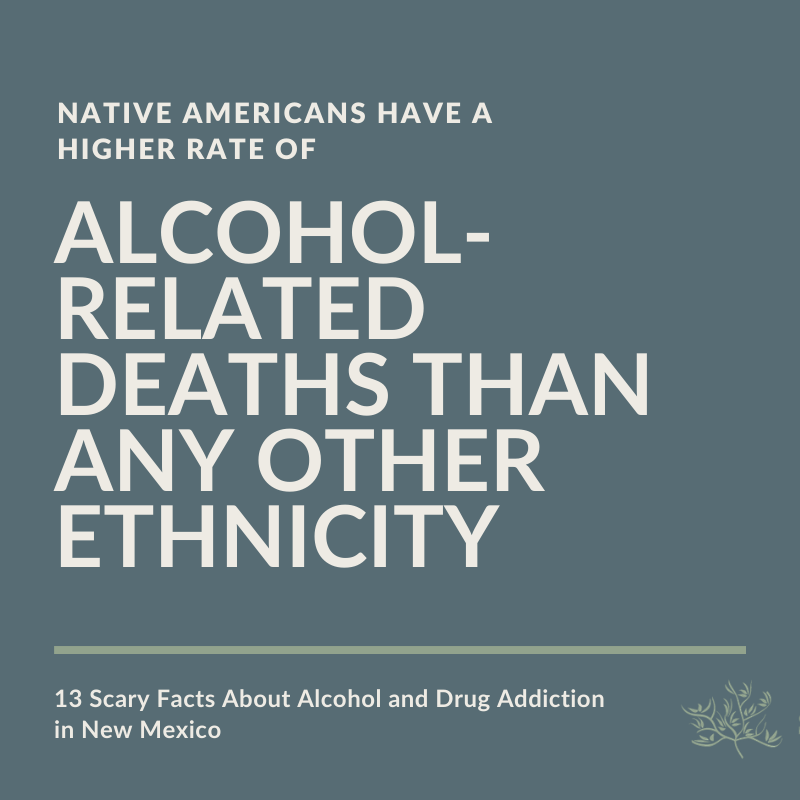 8. Native Americans Have a Higher Rate of Alcohol-Related Deaths Than Any Other Ethnicity
Across the country, Native Americans have a much higher risk of alcohol poisoning deaths than any other ethnic group. This is partly due to a higher rate of binge drinking among this population group, the geographic isolation of rural groups, and more limited access to medical care.
And while this is a nationwide trend, New Mexico ranks second in the country, behind only Alaska for alcohol poisoning deaths among Native Americans. However, it is important to note that New Mexico and Alaska are also home to the largest population percentages of Native Americans.
---
9. Rio Arriba County Has the Highest Drug-Related Deaths in the State
While New Mexico ranks high in the nation for drug and alcohol use and abuse, certain counties in the state have much higher risk factors and rates of drug-related deaths. Per 100,000 residents, there are 24.8 statewide deaths related to drug use, while in Rio Arriba County, that rate is 83.6, almost four times the statewide average. Other counties with similarly high rates of drug-related deaths include Bernalillo, San Juan, Santa Fe, Dona Ana, and McKinley.
---
10. New Mexico's Rate of Alcohol-Related Deaths Is Twice the National Average
The rate of alcohol-related deaths is 32.2 per 100,000 in 2015 for the whole United States. New Mexico's rate, however, is twice this national average, at 66.8 deaths per 100,000. These numbers are from data collected in 2015 but are representative of an ongoing trend in New Mexico.
---
11. New Mexico Has One of the Worst Drunk Driving Rates in the Country
Since 2009, New Mexico has ranked among the top 10 states with the worst drunk driving rates. These rankings include the number of arrests made for driving drunk per 100,000 residents of each state. In 2018, New Mexico reported 460 drunk driving arrests per 100,000 residents which was the sixth-worst in the nation.
And it's not just drunk driving arrests that are a problem in New Mexico. The state also ranks among the worst states for deaths caused by drunk driving. In 2018, 152 people were killed in deadly car crashes involving a drunk driver. That amounts to about three people every week. New Mexico's death rates from drunk driving are much higher than the national average and have been an ongoing problem for years.
---
12. Students in New Mexico Have Some of the Highest Rates of Drug Use Among the Nation's Youth
A recent survey of high school students across the country revealed that New Mexico's youth had some of the highest rates of drug use. The survey places New Mexico students second in the country for cocaine and ecstasy use. They also rank fifth-highest for the use of methamphetamine and eighth-highest for heroin. One in four students in New Mexico reported using marijuana at the time of the survey.
---
13. Unintentional Drug Overdoses in New Mexico Made Up 88% of Drug Overdose Deaths
New Mexico ranks among the worst states in the country for drug overdose deaths, and almost 88% of these deaths between 2013 and 2017 are believed to be unintentional. This means that many of these overdose deaths may have been preventable and that drug use is a huge problem in New Mexico. About 36% of New Mexico's overdose deaths were caused by prescription drugs, 40% caused by illicit drugs, and about 22% of the deaths involved both types of drugs.
During the same time in New Mexico, 2,470 citizens died of a drug overdose, and an additional 5,469 people were treated in an emergency room for opioid drug overdoses. For women in New Mexico, prescription drugs were more commonly used in overdose deaths, and for men, illicit drugs were more commonly used.
---
Commonly Abused Drugs in New Mexico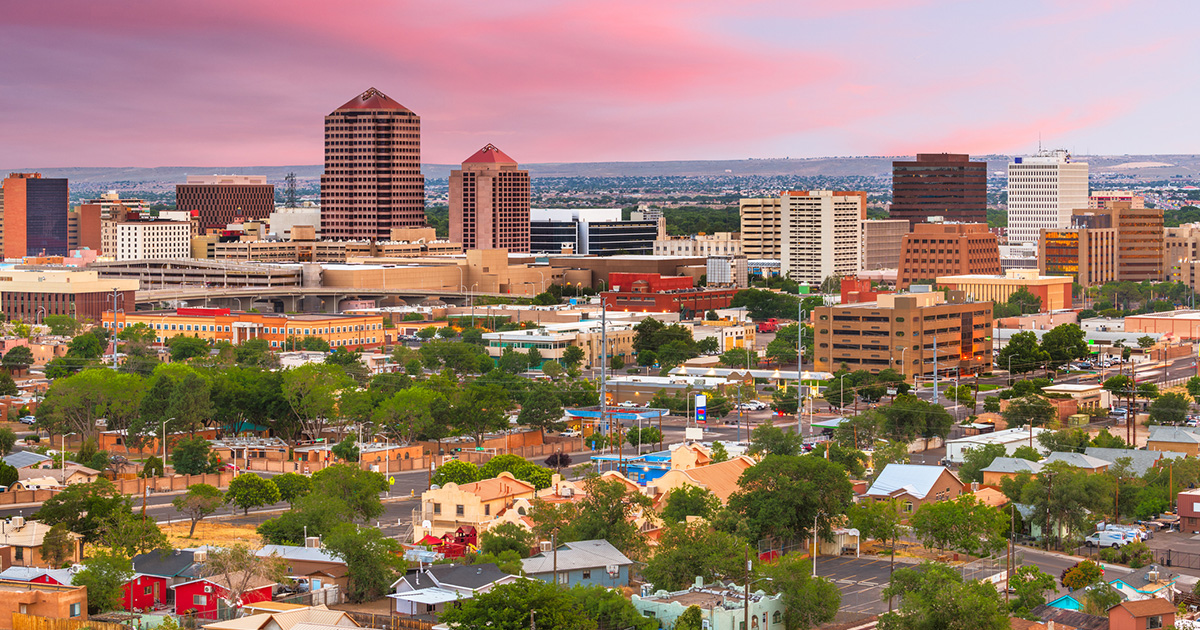 New Mexico has some of the highest rates of drug use and abuse in the nation. So, what are the most commonly abused drugs in New Mexico?
Heroin
The use of heroin has been on the rise nationally over the past few years and is a big problem in New Mexico. Heroin accounts for many drug treatment admissions and overdose deaths due to heroin have continued to rise in New Mexico, especially among men.
Alcohol
In general, alcohol abuse tends to be a bigger problem in areas with higher poverty rates. And New Mexico has many large rural areas with many people living in poverty. Alcohol makes up a large percentage of those admitted for treatment, and the state has a very high rate of death from alcohol-related causes.
Amphetamines
Methamphetamine is a huge, growing problem for New Mexico, just as depicted in the television show Breaking Bad. Overdoses of meth are on the rise in the state, with 537 deaths reported in 2018 and law enforcement reporting that meth is their greatest challenge.
Opioids
Heroin is one of the state's biggest problems, but several other opioids also contribute to its drug crisis. This group includes prescription opioids as well as synthetics like fentanyl. Overdose deaths from fentanyl are increasingly common across the country, especially in New Mexico.
Cocaine
While cocaine is more expensive than many other drugs, it is highly addictive and quickly creates dependence. Cocaine use is more common among men and almost always requires treatment to recover from addiction. It's a huge concern among youth, as more than 17% of New Mexico high school students report lifetime cocaine use.
Substance Abuse Treatment Services in New Mexico
If you or a loved one is struggling with drug or alcohol addiction in New Mexico, Sage Neuroscience Center can help. Our caring, experienced team uses a multidisciplinary approach to treat each individual holistically. The clinicians at Sage use a more balanced method of determining a diagnosis and treatment plan that will benefit each patient and meet their unique needs.
You can learn more about our addiction treatment services by browsing our site here:
Of course, you can also call our office or send us a message by contacting us here.
We're here to ensure clients have an affordable, effective solution to addiction recovery services here in Albuquerque, New Mexico.
* Editor's Note: This post has been updated and was originally posted on June 18, 2015

Clinical Director Therapist
Lana Reihani, LPCC, is a Clinical Mental Health Therapist, Clinical Supervisor, and Clinical Director with Sage Neuroscience Center. She is passionate about strengthening evidence-based clinical practices with radical empathy and a touch of humor, delivered with safety, equality, and diversity in mind. In her free time, Lana loves to learn, cook, find the best light for selfies, share amazing memes, and watch trashy reality TV.
Read Lana Reihani's Full Bio | Browse All Articles Written by Lana Reihani, LPCC